A bedroom is one of the most individual spaces within a home; it needs to balance being chic and tranquil. The bedroom is the private place you go to escape from the rush of the day, recharge for the next, and dream about what's to come, which is why your room needs to be a direct reflection of your perfect style and taste.
An ideal beach style bedroom design can be created wherever you live with the help of inspiring beach-style bedroom tips and ideas on how to achieve the look. Your beach-style bedroom design should create a calm and peaceful feel in the space. Light colors and fabrics are perfect in beach-style bedrooms. 
Where you have a beach house in need of decoration, or just dream of adding one beach-style room to your home, here are 10 elegant beach-style bedroom ideas for getting your coastal getaway into ship space.
---
1. Sea Winds Beach Style Bedroom Design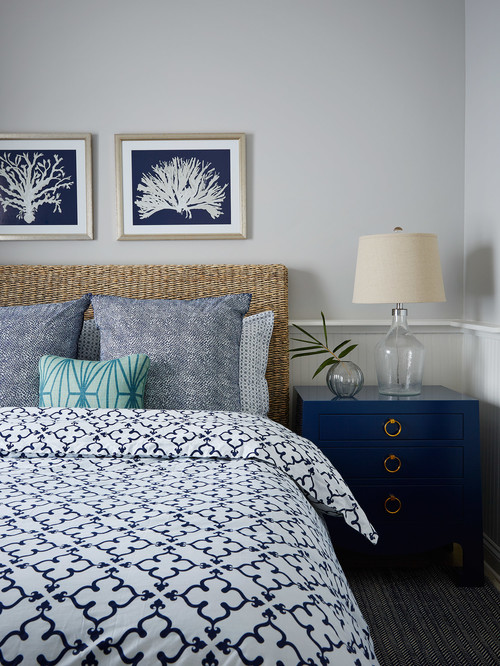 Photo by Andrew Howard Interior Design
This bedroom design is a bright and fun room, great for kids and best for guests or master bedroom. These frames of coral work ideally in a beach-style bedroom. The breezy colors, worn finishes, and overall serene vibe in the beach-style bedroom provide a chic feeling.
---
2. Waterfront Beach Style Bedroom Design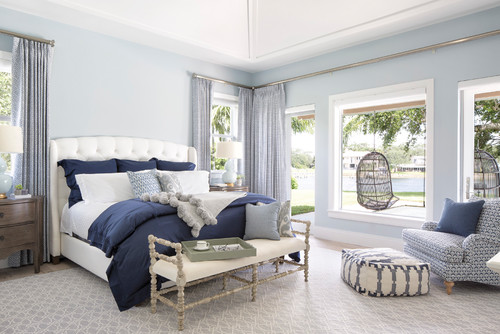 In this Waterfront Beach Style Bedroom Design, the bed, carpet, and lamp match materials and look perfect with the blue shade of the bedspread and pale blue walls. Natural materials are excellent in beach-themed bedrooms because that is what beach life is all about.
---
3. Beach Style Bedroom Design in San Francisco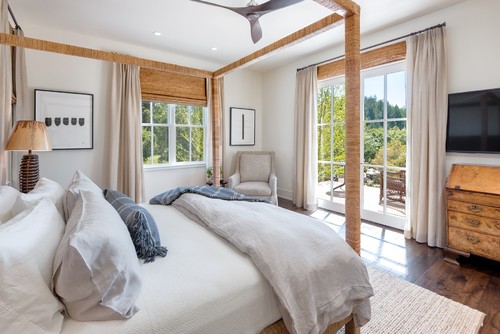 In this beach-style bedroom design, the natural wood of the bed frame is relaxed and ideal for white bed linens. This bedroom appears breezy, relaxing, and comfortable.
---
4. Lido Island Beach Style Bedroom Design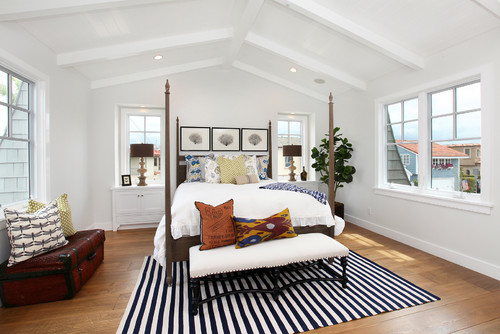 The ocean inspires this bedroom design with coral and crab. In this bedroom design, three paintings are lined up in a row, and although the rest of the room is only white, that slight touch is enough to make the space coastal. This can create the feeling of a coastal quite easily with small touches.
---
5. Beachview Bedroom Design with Blue Walls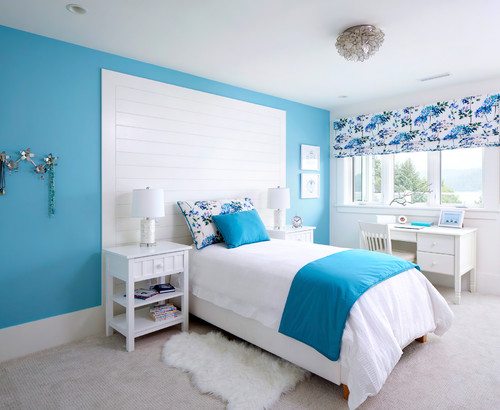 There are a lot of overlaps between beach, nautical and coastal decor schemes. There is some mix between the blue walls and the white bed linens, more suggestive of the nautical scheme in this bedroom design, but the wallpaper on the wall is coastal.
Shop coastal bedside table here
---
6. Bonneymede Residence Beach Style Bedroom Design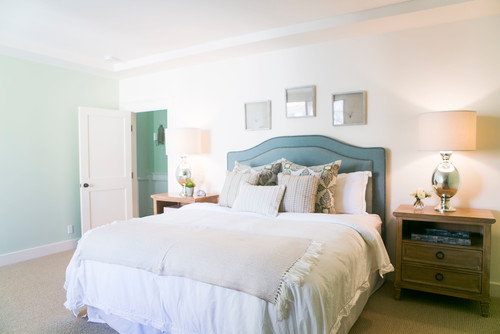 Photo by Hayley Bridges Design
This chic room is excellent for appearing coastal. The side tables, lamps, and mirror frames are all made to promote the coastal look from white walls and no fireplace.
---
7. Garden City Beach Style Bedroom Design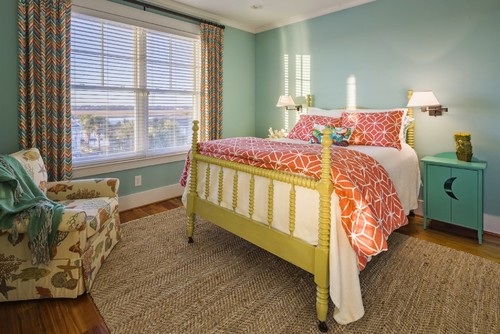 There are many beach-themed bedrooms that go with white, blue, or light green colors for their color palette. However, this bedroom demonstrates that you can have white, red, and coral touches in a beach room and pull it off.
---
8. Lake of Woods Beach Style Bedroom Design
In this beach-style bedroom, the lamp, bed, and carpet are all matching materials, and they look perfect with the white shade of the bedspread. This is one of the ideal bedrooms that is sure to make you feel relaxed.
Shop coastal outdoor chair here
---
9. Coastal Virginia Beach Style Bedroom Design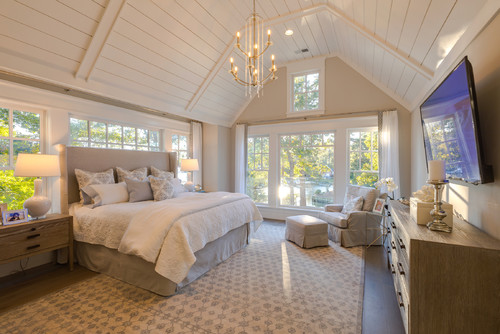 Photo by Stephen Alexander Homes & Neighborhoods
In this beach-style bedroom design, the light wood appearance with the shiplap ceiling of the background makes the coastal-theme carpet more contrasting and mature.
---
10. Coastal Guest Beach Style Bedroom Design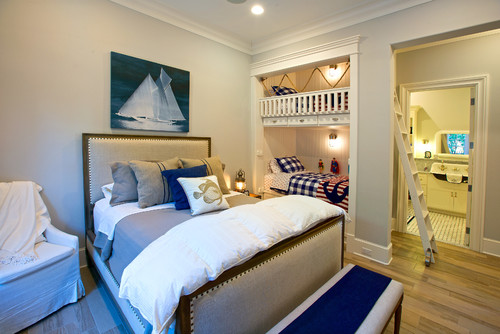 Photo by Veranda Designer Homes
Some Coastal Scenes bring calm to the mind, rainy gray days on the beach instead of the blue skies. That is completely fine because it still appears relaxed, lovely, and all beachy.